How to Make Whole Wheat Pancakes
This video runs about 9 minutes and has a few bonus ideas for toppings as an alternative  to butter and HFCS-laden (high-fructose corn syrup) pancake syrup.  Plus, there's a *surprise* ending, just for fun!
My friend Patricia was glad to get this recipe because she said the pancake mix she'd been buying is so full of junk that it's like cake batter!
100% Whole Wheat Pancakes
by Lori Viets, BreadClass.com
1-1/2 cups freshly-ground hard wheat flour
1 T. baking powder
1-2 T. organic sugar (ECJ), optional  (I usually leave it out)
1/2 tsp. salt
2 eggs
2 T. vegetable oil
2 c. milk
Stir the dry ingredients together thoroughly.  Add the wet ingredients and mix to form a batter.  Allow to sit for 3-5 minutes while the mixture thickens.  Cook in a lightly greased skillet or griddle on medium heat until done on both sides.  Yields about eight 6-inch pancakes.  Note:  These are best when served immediately, as they do tend to deflate a little when they get cold.
Save on the cost of milk with this tip:
Sometimes I have trouble keeping milk on hand.  It's either gulped down quickly by my teen sons or it has a tendency to go sour before the expiration date, due to my long grocery-store commute (even transported in a cooler).  If I'm running low, I pour the amount I have into the measuring cup and fill the rest with water.   If the milk has begun to smell a little "off," I pour it into one-cup portions and store it in the freezer like this: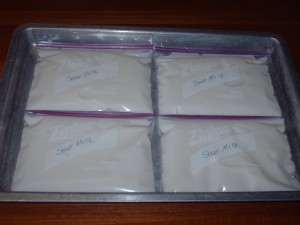 A tray or cookie sheet helps it to freeze flat, so you can stack the bags later to save space.
It's best to be proactive and get it into the freezer quickly, before it has a chance to thicken and curdle.  You can use sour milk in all sorts of baking recipes (and in the pancake recipe above), and it actually helps to activate the baking powder or soda in much the same way that buttermilk would.   No more pouring money down the drain!